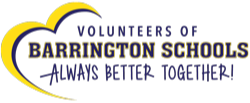 BPS Volunteer Program
Barrington schools welcome parents and community members who wish to contribute their valuable time and talents to enriching the academic experience of our students.
Volunteer activities offer parents and community members opportunities to engage with their local school and support student learning. These experiences are mutually rewarding to students, parents, partners, and schools.
Volunteer Process
Prospective BPS Volunteers
Obtain a RI BCI (criminal records check). Per RI State Law, All School Volunteers must have a RI BCI. The BCI must be submitted to the School Volunteer Office prior to volunteering. How to Get a BCI

Attend a new volunteer orientation New Volunteer Orientation, read and sign the BPS Volunteer Code of Conduct. BPS Volunteer Code of Conduct
Approval Process: When your BCI document is received by the BPS Volunteer Office, your name will be entered into a BPS database as "BCI Approved." This will be made available to all school administrations. The BCI is valid for two years.
Returning BPS Volunteers
Must resubmit a BCI every two years. How to Get a BCI
District COVID guidelines
Any non-BPS employee, including family members, community members, volunteers, vendors, and visitors, may not enter any public school building if they are experiencing any symptoms of COVID-19 or other potentially contagious illnesses. Non-BPS employees will also follow all the other protocols in the BPS Awareness 2022-2023 COVID Back to School Plan ("Awareness Plan"). For example, if a household member is isolated due to COVID, they may not enter school during the isolation window. The members of this group of individuals have no requirement for proof of vaccination.
For questions about volunteering or volunteer opportunities, please contact the BPS Volunteer Coordinator, Anita DiMatteo, DiMatteoA@barringtonschools.org
Related Links: Senior Project Mentors, BPS partners in Learning, Community Volunteering